Find Part 1 of the Eating in Portland series here, and eating at the Portland Farmer's Market here.

I had so much Asian food on this past trip to Portland that I have to give it a separate post (and even then, I must forewarn you this is a lengthy post). In fact, I had so much pho on this trip that my mother-in-law was astonished that every time she suggested we meet at another pho place, I already knew how to get there. :)
So here are some of the Asian foods we ate…
… Vietnamese fish sauce wings and Chiang Mai sausage at Pok Pok, 3226 SE Division St. [map]
This is the legendary Thai restaurant by Andy Ricker that I have been wanting to try for at least the past 5 years! For whatever reason, I just hadn't been able to make it until this past fall, when I snuck out with my dad one morning for an early lunch here. This place is known for what on their menu is listed as "Ike's fish sauce wings" but is widely known by food lovers as simply "Pok Pok wings."
I've actually made Pok Pok wings from various recipes online a few times before I ever even had the real thing here (that's how much I wanted to try it!). I have to confess that when I do make them for myself, I tend to leave the sauce off, which I realize is the whole point of this dish, but my lack of a sweet tooth just finds it a bit much, and I felt the same way here, though this is completely a personal preference. With or without sauce, I must point out how brilliantly simple and flavorful the recipe is, with only a few basic ingredients. If you're not able to get to Pok Pok anytime soon, I highly recommend making these wings at home!
The second item we ordered was this green chile relish (naam phrik num) dish. While visiting Thailand for the first time last year, I developed an immediate obsession with Thai chile relishes, which are quite pungent, salty, and spicy, so when I saw it on the menu at Pok Pok, I just had to order it. Here the relish is served with the customary steamed vegetables and fried pork skin for dipping, and an herbacious Chiang Mai sausage on the side. Everything in this dish tasted just like it had in Thailand. When I first had the sausage from road stalls in Chiang Mai, I remember thinking it tasted like Thai curry in meat form, but I think I actually liked Pok Pok's version even better — more meaty and a bit more toned down in herby-ness, which I preferred.
We didn't have a big appetite that morning, so those were the only two dishes we ordered. Several people have since told me that they usually serve pandan-flavored water, which I'm sad to have missed! My sister said it was one of her favorite things. I also noticed they had drinking vinegars on menu, which I'd like to try sometime when it's not quite as early in the day. :)
… breakfast at Sen Yai, 3384 SE Division St. [map]
After Pok Pok, I was eager to also check out Ricker's new place that opened last year, Sen Yai. Both these restaurants are just really fun to be in. Pok Pok is converted from a house, and the exterior of Sen Yai looks something like a drive-through from another era. I love how these restaurants celebrate street food culture by highlighting the humble, everyday objects that elsewhere might just be considered tacky Asian decor. At Sen Yai, I was especially taken with the vintage Thai cooking posters hanging on the bright teal walls!
Even though we really wanted to try the laksa here, it wasn't being served for breakfast. So we ended up getting the khai luak, or coddled eggs with bread soldiers; jok, or rice porridge, with a softly poached egg added; and the kuaytiaw naam kai, which was a bowl of very wide rice noodles in a simple broth. I loved the consistency of the porrdige and actually wondered whether it had been made with broken rice, because it tasted coarser and resembled grits.
I loved both these restaurants, but I must admit that somewhere deep down, my cheap Asian self had a little trouble getting over the price of some of the costlier dishes ($12-16) that I know are probably just a few dollars on the street in SE Asia (or even in a Chinatown somewhere). But ultimately I think it's worth it for the way that an entire cultural experience is being presented here. The menus at both places offer a wide range of samplings, including many obscure dishes. Not only that, but the menus are just so well written, with informative descriptions coming across in a fun, lively voice. It really feels like you have a cultural guide here translating a cultural experience for you — he keeps it authentic, but presents it in an accessible, non-intimidating way, at a pace that you can handle. I actually got a copy of Ricker's new book, Pok Pok, that released while I was in Portland, and I'm looking forward to reading it closely and trying some of the recipes.
… noodle soups at Ha & VL, 2738 SE 82nd Ave #102 [map]
At the complete other end of the spectrum is HA & VL, serving Vietnamese noodle soups the way your grandma makes them at home. This is a tiny, no-frills kind of place with a rotating menu, and it's very popular among Asians — my parents actually have a friend who come here almost every day! Sandwiches are available daily, but there are two featured noodle soups rotating each day of the week. So of course we had to come back several times to try a few of the options, including bun cha oc (snail noodle soup — the snail is actually chopped up and incorporated into meatballs) and pho bac (northern-style pho).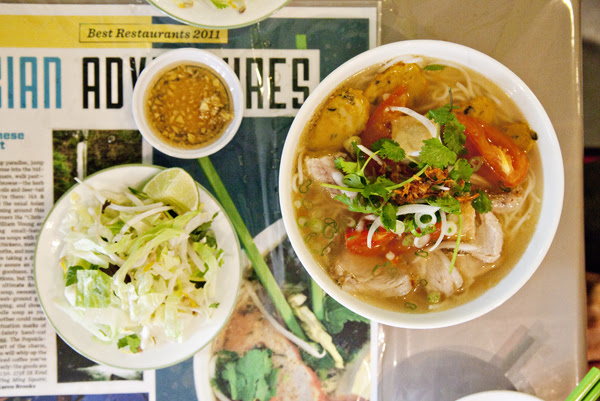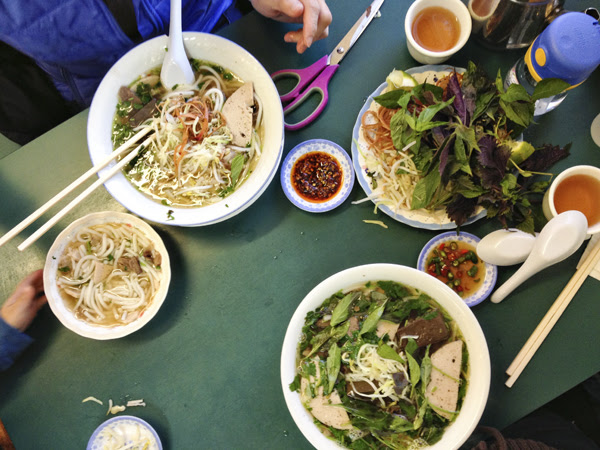 … pho and bun cha Hanoi at Pho Kim, 2204 Southeast 82nd Ave. [map]
This is my family's go-to place for pho in Portland. Apparently, a number of owners have tried to run pho restaurants at this very location, but the current Pho Kim is the only one that has actually taken off. The place is spacious, clean, and well run, and most importantly, the pho is solid. (You can request the rare slices of beef on the side, but they often forget.) The bun cha Hanoi here is quite good too, though both me and my parents find it to be on the sweet side for our tastes. My mom also likes their hu tieu thap cam, or Chinese-style rice noodle soup with shrimp, quail eggs, and pork (not pictured here).
… bun bo hue at… Bun Bo Hue :)Â 7002 SE 82nd Ave [map]
Our go-to place for bun bo hue is the accurately, if uninspiringly, named Bun Bo Hue. It's not the most amazing bowl of bbh ever, but it's pretty good. One of the things we like about it is how they cut up the pigs' feet into small, manageable pieces for you to nibble on. :)
… rice noodle sheets at Hanoi Kitchen, 7925 Northeast Glisan St. [map]
My parents like to come here for the banh uot, or thin rice noodle sheets. Again, it's not the most amazing (nothing will ever live up to Banh Cuon Tay Ho, which my sister introduced me to in Orange County), but it's pretty good. We also got a decent bowl of bun rieu here too (that's crab and tomato rice noodle soup).
… more pho and duck noodle soup at Pho Oregon, 2518 Northeast 82nd Ave. [map]
This is another pho place my parents go to, but my mom's favorite thing to order here is actually the bun mang vit, or rice noodle soup with bamboo and duck. They serve the duck on the side here, like a salad, similar to ga xe phay except with duck instead of chicken. I've never had it this way before, and I really liked it!
The last Vietnamese place I really wanted to try but had no luck with was Luc Lac. It was closed both times we tried to go (which is how we ended up getting excellent Greek food next door instead, as I mentioned in my earlier post).
Grocery Stores
Before I close, I wanted to include a list of grocers, both because I spent a lot of time getting groceries with my parents and because I was quite impressed with the range and variety of options available in Portland, from warehouse-dirt-cheap Winco to the higher-end, local, Whole-Foods-like chain New Seasons that I mentioned in my last post.
Banh hoi family, 12105 SE Raymond, 503-761-8809 [map]- Starting with the most obscure, this is where my parents get freshly made banh hoi (rice noodle bundles for eating with lettuce wraps). It's made by a family out of their home, so you have to place your order by phone first (in Vietnamese, though their children might be able to help you in English) and then pick up Friday–Sunday.
Bui Natural Tofu [map] – This little shop near Hanoi Kitchen sells tofu of all sorts, as well as a variety of Vietnamese desserts. My mom loves their xoi khuc, which is sweet sticky rice with mung bean and pork.
ABC Seafood Market [map] – Asian market that my parents go to for fresh seafood at good prices.
Fubonn [map] and Hong Phat [map] – These are the large general Asian supermarkets that my parents frequently shop at. They have more Vietnamese / SE Asian ingredients than some of the other chains like Korean HMart and Japanese Uwajimaya, which also have locations farther out in the Portland suburbs.
Cash n Carry [map] – A (non-Asian) regional chain with several locations in Portland. This is sort of like a restaurant supply store, selling food items in massive quantities at cheap prices. They also do carry some Asian foods here too, like rice noodles and chili sauces. My parents like to come here for wholesale meat.
Winco [map] – A regional chain and warehouse-like store that sells groceries so cheap they are being called "Walmart's worst nightmare" (but they supposedly have more ethical practices). They have a really impressive bulk foods section. My mom likes to get fresh peanut butter here, which she grinds with a machine herself in the back of the store.
Flying Fish Company – We were introduced to this (also non-Asian) seafood shack by a Portland local sitting next to us at a restaurant one time. Since then, our family tradition has been to get sashimi-grade fish here, along with fresh wasabi root. I say "shack," which it is, but it is actually much nicer, cleaner, and better run than "shack" would convey. They list each week's fresh fish (all sustainable) on their website, and it looks like they also carry things like grassfed beef.
Fred Meyer – This is a Safeway-like, local, privately owned grocery chain that is more mid-range (as in, not as fancy as New Seasons). It is totally a Portland staple, and my parents and in-laws do practically everything here, from buying clothing items to filling prescriptions. I actually got my flu shot here too.
—
All in all, I was quite impressed with the amount of Asian food options in Portland, though you may have noticed the lack of Chinese restaurants mentioned. We actually did eat a lot of Chinese food, and while being Cantonese-food-deprived in Beijing meant I loved it all despite my parents' lack of endorsement, in the end I have to agree that they probably aren't worth mentioning by name here.
It's a bit ironic that only after moving to China have I had a chance to take longer trips to Portland, but I am quite happy to adopt it as my second home these years. We will be back soon enough next month!